Win with iTalkYou, help us spread the word about our technology and recommend our solution, in return, we will deposit directly into your PayPal account a reward!.
You will receive a payment corresponding to the monthly amount that your referral acquired, such payment will be made after the third month of permanence of your referral.
Join our referral program now, follow a few simple steps and open new opportunities with the unified communications provider that offers solutions that will help your referrals grow their business.
Modernize

your

business

communications
With an easy-to-use cloud platform
Virtual PBX
You will have the functionality to manage incoming calls from your customers to provide a better service experience. With additional accounts to your business account you will allow your team to use all the features of iTalkYou at no additional charge.
Digital Receptionist / IVR
IVR: Interactive Voice Response. With this feature you will be able to play a voice message when your customers call your PBX, allowing you to direct them to the most appropriate extension for their communication needs. Creating the possibility of adding handlers with artificial intelligence.
Virtual meeting rooms
Improve your communications with your customers and your remote team. Video conferencing in a collaborative environment will help you have more efficient meetings and lower operating costs.
Calls
You will have access to make long distance calls to fixed and mobile numbers at very low costs and with the possibility of buying plans of minutes to countries or regions.
DID Virtual Numbers
It will allow you to have a local number (from anywhere in the world) that your customers can call to communicate with you and you can answer from your cell phone using our APP (Android or iPhone).
Click2Call & Chat
You will be able to receive calls from visitors to your website directly to your smartphone or computer. You only need to install the code of your account and you will be available to your customers whenever you want. It will also allow you to have conversations with users who visit your website through a simple and easy to use chat.
Endless Opportunities
By 2022, the world of VoIP and unified communications will be a $69.1B market, 2 so your chances of success are abundant. iTalkYou offers an attractive commission, and we want to capture the market with enthusiastic partners.
Cloud communications visionaries
iTalkYou began displacing complex and obsolete hardware phone systems in 2005. Now more than 350,000 organizations enjoy reliable, enterprise-grade systems that are easy to scale, manage and use.
Safe and Easy
Get your customers up and running in five minutes with the leading innovative solution on the market. Just like the evolution that has taken place in personal communication thanks to smart technology, business communications are now smart. Join iTalkYou in revolutionizing the way the world works.
Defend your success
We collaborate with your success: We offer compensation for each referral and train you on the product. Plus, you get special discounts for using the product. You are a valuable partner for iTalkYou.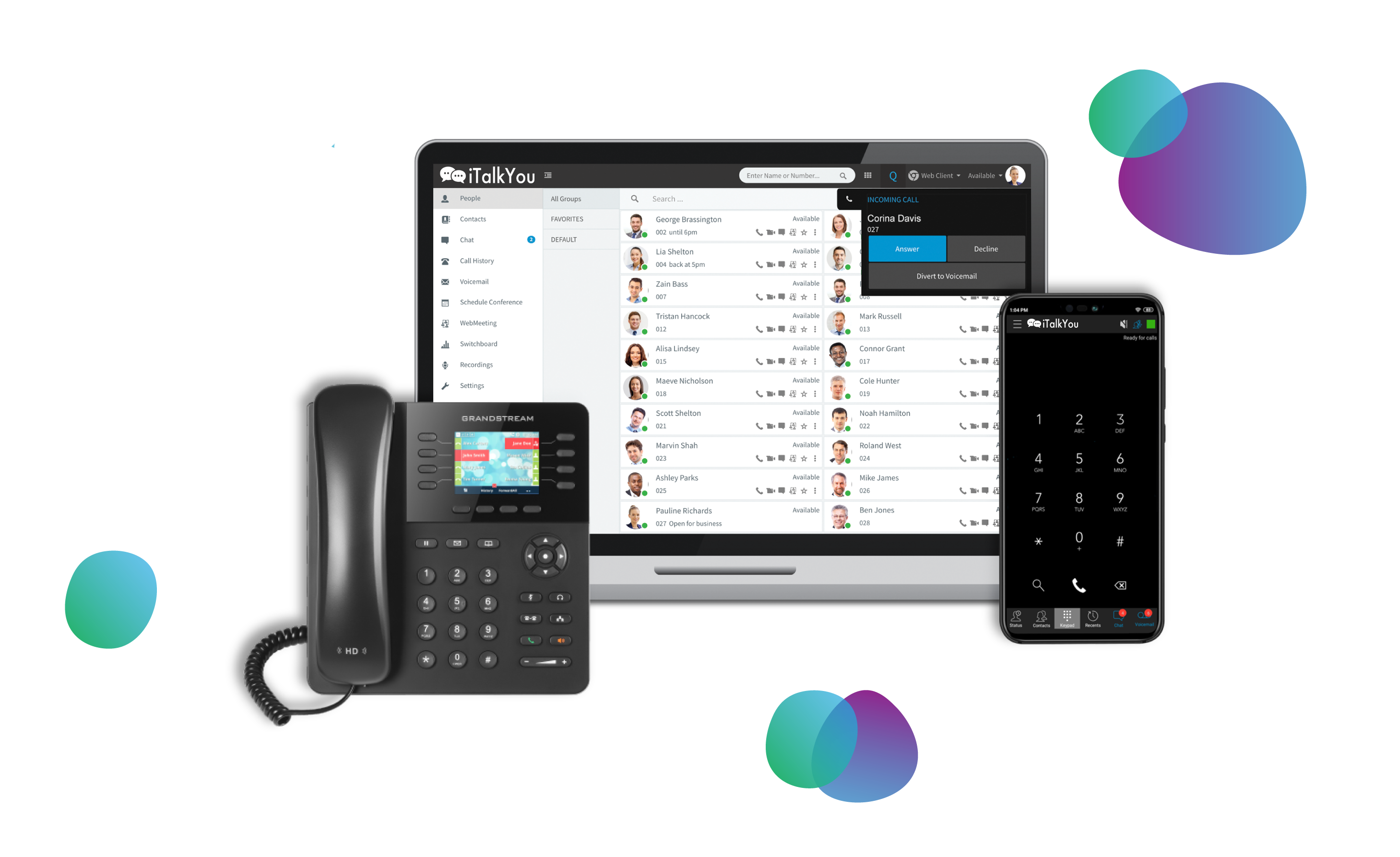 Join us to create the future of communications
A growing market
Projections indicate that the cloud communications user base will grow by 23.8% per year between now and 2023.
A profitable opportunity
Companies around the world rely on iTalkYou and represent millions of users. The potential market is valued at $25 billion.
Un historial comprobado
Más de 1.000 socios están aprovechando la plataforma de iTalkYou y disfrutando de su participación en el mercado de comunicaciones en la nube en rápido crecimiento.
Get started now
Request more information and one of our specialists will help you identify the best solution for your company.