COMMUNICATE REMOTELY
iTalkYou Rooms, has decided to make its web infrastructure available to the world, giving away a 30-minute Virtual meeting. So, that way you can be closer to your loved ones, clients, classmates and friends, all from the safety of your home.
The iTalkYou Rooms web meeting allows you to organize secure virtual conferences (audio and video, slide show, whiteboards, document and screen sharing, etc.) from your PC or smartphone by sending a simple URL to guests.
YOU CAN TRY OUR FULL VERSION TOO
Maintain communication with your clients, family and friends.
Use

iTalkYou Rooms

and start your virtual meetings.
More than Video Conference
FULL EDITION TRIAL
FREE FOR 7 DAYS
Limited Time Promotion, no Credit Card needed
Why iTalkYou Rooms
It Offers a set of Collaboration Tools that Enhance the Experience and Facilitate the Process
Conduct Web Conferences with no Need to Install Additional Software
You only pay for the Virtual Room and no contracts
We Made Video Conferencing Easy, Fast and Secure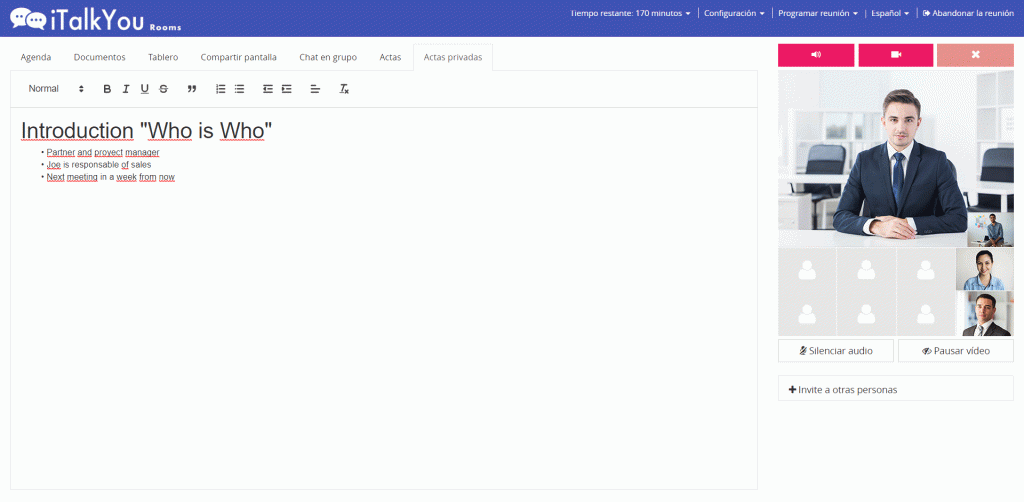 Take online notes during the meeting to ensure proper follow-up of important action items. These minutes can be shared to all the members of the team and allows everyone to contribute simultaneously.
Use the board to brainstorm with the meeting participants. You can draw freehand or use predefined shapes to take your ideas to a visible document. All the slides can be downloaded in PDF format.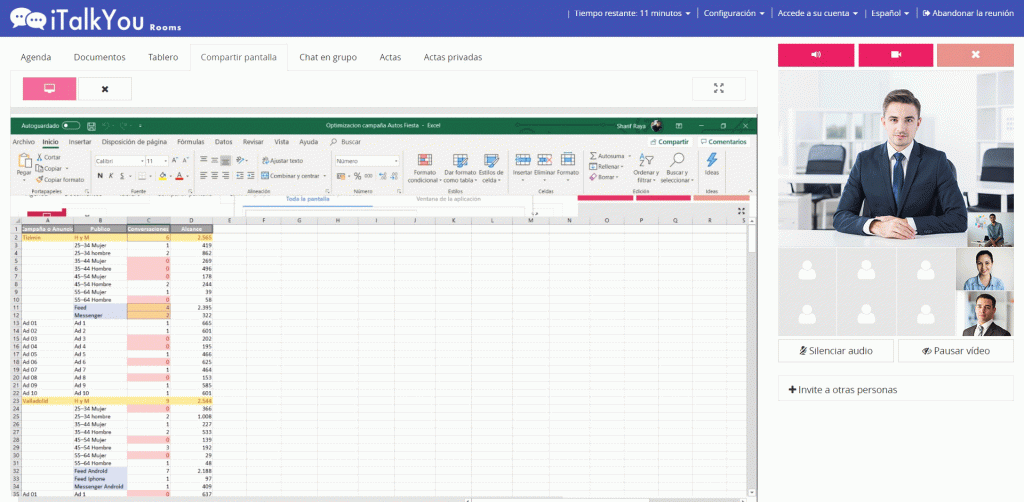 Share the whole screen or just a window with the participants of the meeting. Participants can switch to full screen and follow the cursor while enjoying excellent audio and video quality.
Start immediately. With the intuitive and easy-to-use interface of iTalkYou Rooms it will take less than a minute to set up your meeting. Stay on schedule with the calendar of your virtual meeting room. See all your past meetings and upcoming meetings at a glance.
Agreement on Date Made Easy
Use our tool "Find a date" to easily find the day that all meeting participants are available.
Communication with crystal clear audio experience and quality video in your virtual meetings. We use the most innovative technology to ensure that everyone in your meeting can be seen and heard.
Upload slides to expose your presentation with clear images and high definition. All participants can automatically follow the slide change and each one can draw on them to highlight important points in real time.
Upload and share documents with all the participants for presentation, discussion, collaboration and interaction. Documents can be deleted from our servers once the meeting is over.
Make the most of your valuable time by defining an agenda in advance. When everyone is in tune, short and effective virtual meetings can be held.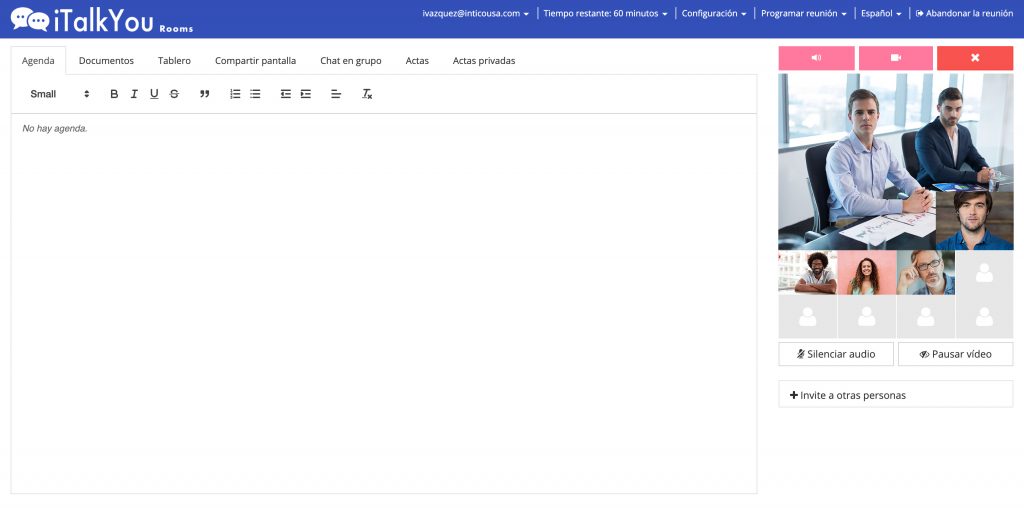 Real-Time Group or Private Chat
Expand communication and brainstorming support in meetings with text messages. Send and receive messages instantly. Can be to the group or in private.
Gett your virtual conference room and invite the people you need with no worries to pay for each attendant.
iTalkYou Rooms is perfect for modern teams that are used to efficient and remote business meetings.
If you want to experience the true potential of an easy and fast video conference software, sign up and get 7 days for free.
Compatible with all Main Platforms
Our web application works on all platforms, including Android, Linux, OSX and Windows. All you need is a recent version of Google Chrome, Mozilla Firefox or the Opera browser on your desktop or mobile device to use our service.
Servers located in Switzerland for privacy
All our servers are physically located in Switzerland. Your data is protected by strong data protection and privacy laws in Switzerland. Switzerland has no secret court orders, and our national laws protect your business secrets no matter where your company is registered.
Encryption to protect your data
We treat your business data with care. All communications are encrypted to and from our servers. Audio and video conversations are encoded end-to-end and are produced on a peer-to-peer basis whenever possible.
'No clouds' for better control
We took a "cloudless" approach to provisioning the resources used in your meeting on our servers based in Switzerland. We do not use the cloud, so we know where your data is located at all times. We implement local scalability to offer you a fast and reliable service.
DISCOVER OUR FRIENDLY PRICING
We charge for the room no for the participants
---
iTalkYou ROOMs FULL Version | Unlimited Videoconferences (Company logo can be added)
Extensions: 10

Chat Between Extensions

iOs | Android | Web App

Click to Call & Chat

IVR (Interactive Voicemail)

Credit for Calls and iTalkYou Features: $5

DID (Local or International Number): 1
---
iTalkYou ROOMs FULL Version | Unlimited Videoconferences (Company logo can be added)
---